Find Christian 80's Metal that you like!
Launched on April 1st of 2010, 20 years since the close of the 80's, 80sChristianMetal.com is a continuation of our youtube channel that offers around 80 albums worth of Christian 80's Metal in the form of public Playlists.
What is Christian 80's Metal?
There are many genres and sub-genres of Rock music. Heavy Metal is a genre. 80's Metal is a sub-genre. Some 80's Metal Rockers were also Christians. Some of these Rockers rocked for Jesus. Their music is referred to as 80's Christian Metal.
History
During the 80's, Christian Metal was also called "Righteous Metal" and "Heavenly Metal". In the 80's, Christian Metal was, and to a lesser extent is still known as "White Metal". Christian Metal was called "White Metal" in contrast to "Black Metal" because "...the music serves the purpose of offering a positive alternative or counterbalance to secular metal music which is known for its generally dark message."
http://en.wikipedia.org/wiki/Christian_metal
Today
Melodic Metal, or Melodic Power Metal are sub-genres of rock music that are so closely related to 80's Metal, that these newer Christian bands are sometimes included on this site.
Featured Artist: RECON
RECON - Could Vett Roberts sing higher and fuller than Geoff Tate of Queensryche?
We suggest visiting our youtube channel and listening to a track called Light The Fire. I'm afraid that this is the highest full-voice metal song I have ever encountered. 80'sChristianMetal has a special gift for the man who posts a video reply of himself singing it full-voice.
Featured Artist: Venia
Venia also has some free downloads on their website. They are another new metal band from Finland. Like HB, they shred on guitar, sound 80's, and have sincere, straight-shooting, simple, and unmistakably Christian lyrics.
As of 01.12.2010, it looks like they are recording an album around LA, and it will feature many great 80's Christian Metal legends. Bring back the costumes!
News
Find bands you like!
Find Christian 80's Metal Bands that you might like with our LIKE chart.
If you like:
This 80's Metal Band
You may like:
These 80's Christian Metal Bands
Sub-sub-Genre
Iron Maiden
Sacred Warrior, Jacob's Dream
Heavy-Metal
QueensRyche
RECON, Haven - Your Dying Day, Age of Darkness, The Sacrificed
Heavy-Metal, Progressive Rock
AC/DC
X-Sinner, BloodGood -Out of the Darkness, All Stand Together To Germany w/ Love, Detonation
Heavy-Metal
Ratt
Stryper - Against the Law
Glam and Heavy-Metal
Dream Theatre
Darkwater, Balance of Power,7 Days
Progressive Power-Metal
Metallica
Deliverance
Heavy-Metal, Speed Metal
Bon Jovi
Soldier
Glam, Hard Rock
Judas Priest
Messiah Prophet - Master of the Metal, Saint - The Mark, Crime Scene Earth
Heavy-Metal, Classic
Van Halen
Guardian
Hard Rock
Van Hagar, Winger
Novella: One Big Sky, A Liquid Earth
Hard Rock
Quiet Riot
Bride Silence is Madness
Heavy-Metal
Warrant, Cindarella
Holy Soldier
Glam Rock
Megadeth
Seventh Avenue
Speed Metal, Death Metal, Heavy Metal
King Diamond
Seventh Seal
Power Metal, Death Metal
Def Leppard
Whitecross
Glam Rock, Hard Rock
David Lee Roth
Ken Tamplin, Magdallan - Big Bang
Glam Rock, Shred Metal
Nitro
RECON
Glam Speed Metal
Motley Crue
Petra
AOR, then Glam Metal
Rush
Tritan
Progressive Rock, Heavy-Metal
Yngwie Malmsteen
Rob Rock, Impellitteri - Screaming Symphony, Answer to the Master, Screaming Symphony, Wicked Maiden
Power Metal, Melodic Metal
Journey
Angelica - Walkin in Faith, Rock, Stock, & Barrel, Time is All it Takes
Hard Rock
Steve Vai
David Zaffiro
Shred Metal
Guns n' Roses
Traxter
Hard Rock, Glam
Dokken
Straightway
Hard Rock, Glam
Evanescence
HB
Viking Metal, Power Metal,
Enya
Iona - The Circling Hour, Open Sky, Dunes, Woven Cord, Heaven's Bright Sun, Journey Into the Morn, Beyond these Shores, The Book of Kells
Celtic, Progressive Rock
Twisted Sister
Neon Cross, Leviticus - Setting Fire to the Earth, Knights of Heaven
Hard Rock
Skid Row
Fear Not
Glam
Billy Squire, White Snake, Blue Murder
Red Sea - Blood
Hard Rock
Badlands
Laison - Hard Hitter
Hard Rock
Dio
Driver- Sons of Thunder
Melodic 80's Metal
Yes (90125 era)
White Heart - Tales of Wonder, Freedom, Inside Powerhouse, Highlands
AOR, Hard Rock
Helloween
Theocracy
Progressive Power Metal
King's X, Kansas
Mehida - Blood and Water, The Eminent Storm
melodic symphonic progressive metal
Fate's Warning
Majestic Vanguard - Beyond the Moon
Power Metal
Dragon Force
Random Eyes - Eyes Ablaze, Invisible
Melodic Metal/Rock
Queen, Jon Oliva (Savatage)
Audiovision - Focus, Narnia - At Short Notice, Enter the Gate
Melodic Metal
Poison
Rage of Angels
Glam Metal
Korn
Brian "Head" Welch - Head
Nu Metal
Check out Christian 80's Metal Bands like these and more at http://www.youtube.com/80sChristianMetal. There are over 70 Playlists.

Not find what you are looking for?
If your favorite band 80's Metal Band is not listed at left, but would like to find a Christian alternative, contact us.
Another resource is http://www.heavensmetal.com. They have an exhausitve list of all (not just 80's) Christian Metal. However, the categories help you find the 80's Metal. Then you can search ebay or go to the band/s homepage. Also, wikipedia's' List_of_Christian_metal_bands lists all Christian metal bands and genre. On either of these sites, if you see the same genres as above, it is probably 80's Christian metal. Also, you can read reviews of Christian Metal , or view the 80's section of Chronological History of Christian Metal. Just to be sure, it s best to search youtube for the band and album name first though, if you want to keep it 80's. If you want to go beyond the 80's sound, you can broaden your horizons to all Christian Metal.

Don't like the LIKE Chart?
This is an open-source chart, meaning that it is a beginning, and is intended to be a collaborative effort accross Metaleros. In this first draft, the first column reminds me of the 2nd column -and only in the 80's and early 90's. Sure, bands change over time. If you would like to edit this chart, send me your edited copy.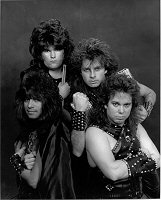 Reviews
Attention Metaleros! Now is the time to send in your CD's if you want them reviewed on 80's Christian Metal.com. You can be one of the first reviews up on the new reviews page. Contact us to send us the Albums that you want us to review. Tell us what albums you want to send first. It is ok if it is new, it just needs to be 80's Christian Metal!
We also plan to have contests and awards. Let us know what you think the criteria for judging an 80's Christian Metal should be. Some of the more interesting criteria for album suggested so far are "machismo" and "shred quotient". Shred quotient is a calculated value, derived from multiplying the number of guitar solos by the length of the guitar solos, and then dividing by the number of songs, divided by average length of each song. This is the secret science of 80's Christian Metalology. 80's Christian Metalologist Dr. Robert Von Boanerges has created an 80's Christian Metal Lyric Generator, to open the wonder of writing 80's Christian Metal lyrics to all. Give it a try! You'll be smiling like the guy in the fur cape (member of Saint) in the photo at left.

80's Christian Metal Tour Bus
Add a 80's Christian Metal Tour Bus Stop!
Should the 80's Christian Metal Bus should stop by your town or city? Let us know! Tell us the name of all the 80's Christian Metal Bands you would pay to see if they toured in your city. Tell us, and tell your friends to do the same. If there are enough fans in the area, we'll tell the bands' tour bus to stop by!
Christian 80's Metal Radio
You will hear a brief ad followed by hours of ad-free 80's Christian Metal.
Christian Armor Radio -Christian rock and metal from the 80's and 90's - Tourniquet, Whitecross, Holy Soldier, Idle Cure, Bride, David Zaffiro, Stryper, Whiteheart, Guardian, Deliverance, Barren Cross, Liaison, One Bad Pig, Novella, Neon Cross, Mastedon, Bloodgood & The Brave.
The White Metal Show - This station can counterbalance the occasional lightness of Christian Armor Radio, but watch out for the Death Metal!
Heavy Metal from Christian point of view. All styles All Era's Ultimatum, Saint, Deliverance, Faith Factor, Rob Rock, Jacob's Dream, Barren Cross, Bloodgood.... Heavy Metal Madness!
More News

Out of Stock Rob Rock Voice of Melodic Metal Live DVD's Now Available!
2. 10.2010
Rob's band for the ProgPower concert consists of the following musicians:
CJ Grimmark (Narnia) - Guitar
Andreas Passmark (Divinefire, Narnia) - Bass
Peter Halgren - Guitar
Tracy Shell - Drums


80's Christian Metal.com Launched!
4. 1.2010
Launched on Schedule!

Join the Party!
80sChristianMetal.com was created for Metalheads who are looking for an alternative to Satanic, vulgar, or otherwise non-Christian metal lyrics filling thier Metal heads. However, as occured in the 80's, Christian 80's Metal is gaining popularity among people of other religions, and non-religious people as well. Whether it is the positive message, clear singing and vocals, songwriting, or abundant and long guitar-solos, Christian 80's Metal is so missed that retro is back in style! Everybody is welcome, so turn it up, and feast your ears on some scortchin tunes!